Fab Five Move On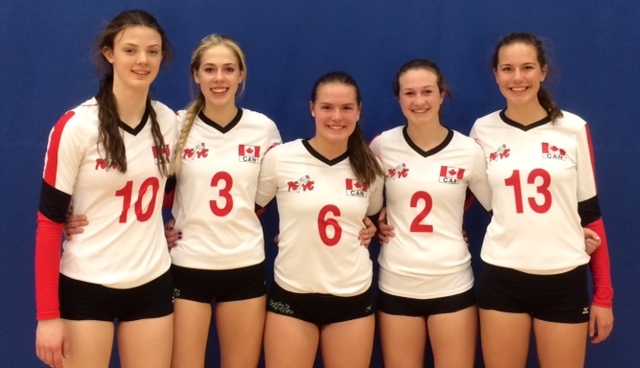 Anika Kolybaba, Hallie Drezet, Megan Warner and Jaymie Kwiatkowski have been liberating lost & founds, sharing hotels and riding in vans together for five years while playing for the PGYVC Kodiaks. When the Northwest Volleyball Club decided they would not have an 18U team for 2016, Carmen Didier contacted coach Kim Forrest and offered up the services of outside hitter Carly Davies. The 6'2" Davies packed up her toaster and volleyball gear and joined the Kodiaks.
Now that the club season is over, the girls are setting their sights on the future. Davies will be joining fellow Northwest Volleyball Club outside hitter Kassidy Kitchen at Mount Royal University in Calgary. Drezet will be across the net from Davies and Kitchen in Canada West action with Thompson Rivers University in Kamloops. Kolybaba heads to North Vancouver to play for Capilano University and will face Kwiatkowski who will be suiting up for Columbia Bible College in Abbotsford. Both will play in the Pacwest. Finally, Warner is keeping the PG to GP pipeline open. She will compete in the ACAC and will rejoin her former Kodiak teammate Sydney Toninato at Grande Praire Regional College.
PGYVC wishes all of them the best of luck!