POWERLEAGUE
Powerleague Tournament Format:
- entry fee: $250/team.
- prize money: $500, $300, $100 per gender.
- each team plays a minimum of five matches, best of three, no cap in any game.
- out of town teams can request to start on Saturday mornings but must be prepared to play back to back matches.
- youth teams 16U and older are welcome to play.
- teams are required to referee (please check refereee schedule), teams that miss referee duty will be fined $50 or removed from the draw.
To register, please email us here
2023 POWERLEAGUE SCHEDULE
Powerleague #1 Results:
Women:
1. Hitlist
2. Servivors
3. Big Dig Lovers
4. 18U Kodiaks
5. 17U Kodiaks
6. 16U Kodiaks Red
7. We Might Surprise You
T8. Not Fast But Furious
T8. Volley Llamas
T10. No Dig'gity
T10. 16U Kodiaks Black
Men:
1. 17U Kodiaks
2. 18U Kodiaks
3. Big Doinks
4. Big C and the Lads
5. Jolly Jumpers
6. 16U Kodiaks
Powerleague #2 Results:
1. Servivors
2. Not Fast But Furious
3. 18U Kodiaks
4. Ace Ace Baby
T5. Volley Parton
T5. 16U Kodiaks Red
T7. Quesnel Cobras 18U
T7. 17U Kodiaks
9. Volley Llamas
10. 16U Kodiaks Black
Powerleague #3 - Results:
Women:
1. Hitlist
2. Servivors
3. Not Fast But Furious
4. 18U Kodiaks
T5. No Dig'gity
T5. Happy Hour
T7. 16U Kodiaks Red
T7. 16U Kodiaks Black
9. 17U Kodiaks
10. Volley Llamas
11. Bulkley Valley Storm 16U
12. Bulkey Valley Storm 2
Men:
1. Jednorth
2. Pounders
3. Big Doinks
4. Big C & the Lads
T5. Lacking Left Sides
T5. Jolly Jumpers
T7. 17U Kodiaks
T7. Bulkley Valley Storm
9. NBVCV 18U
10. 16U Kodiaks
Powerleague #4 - April 1 & 2, 2023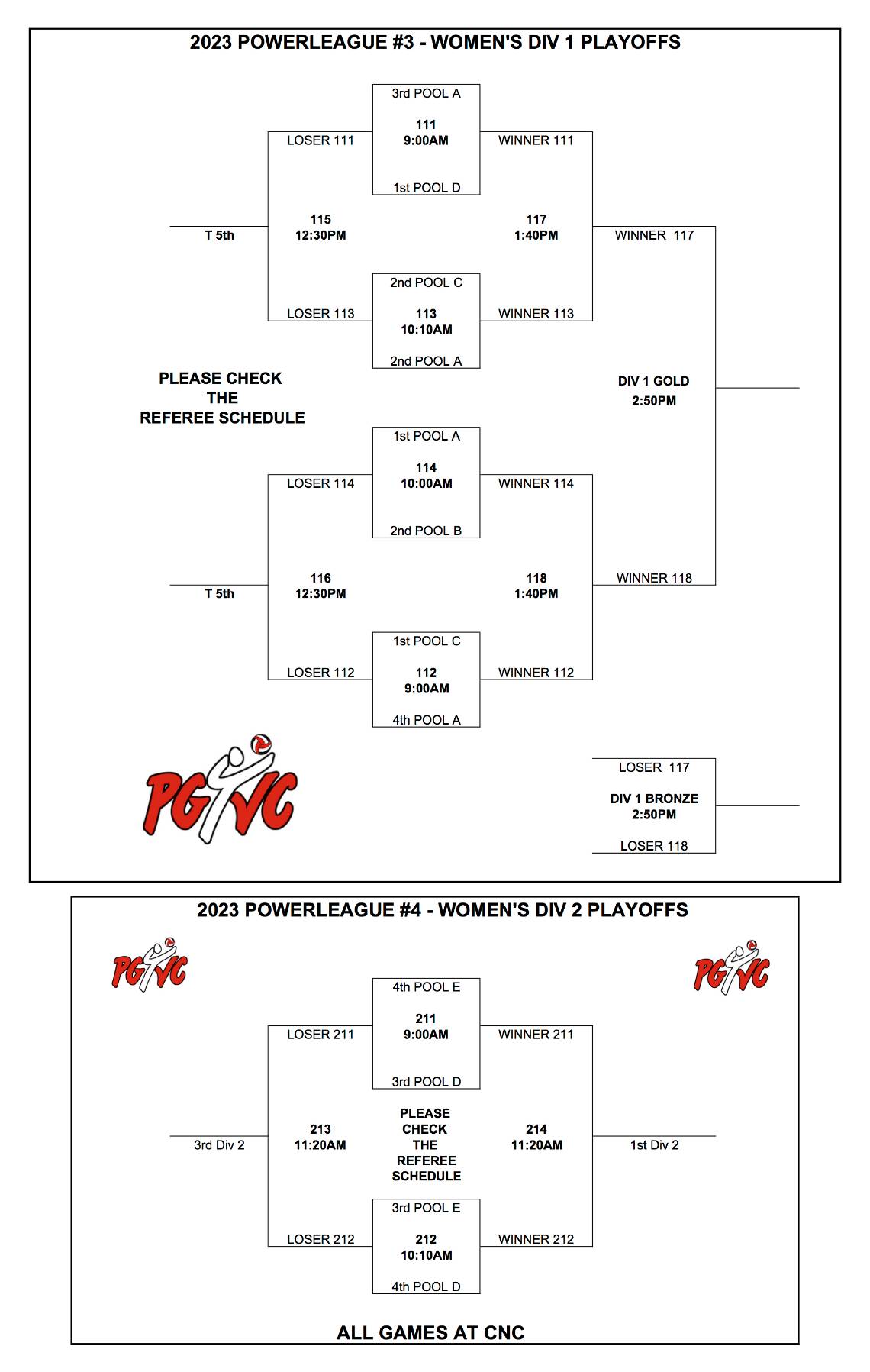 Registered Teams:
Women:
1. 18U Kodiaks
2. 16U Kodiaks Red
3. 16U Kodiaks Black
4. Servivors
5. Volley Llamas
6. No Dig'gity
7. Not Fast But Furious
8. 17U Kodiaks
9. Digging & Swinging
10. Big Dig Energy
11. Happy Hour
12. Hitlist
Men: (not enough men's teams for this event)