2015 PROVINCIAL RESULTS
16U Kodiaks Red Place 6th in Div 1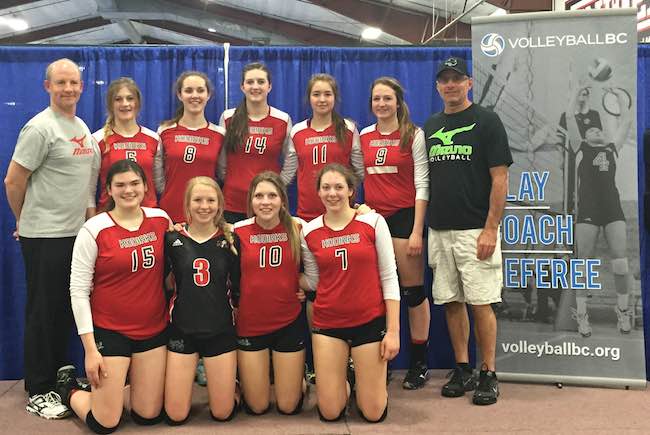 The 16U Girls Kodiaks Red went into the 2015 Provincial Championships ranked 8th but when the weekend was over, they had moved up two spots to place 6th. The girls had a great first day with two wins and one loss in the round robin, finishing second in their Power Pool. Next was a three set win in their crossover match, 25-20, 22-25, 15-6, over Powell River. The quarterfinals also went the distance. The Kodiaks ended up losing 25-23. 24-26, 8-15 to the eventual bronze medalists, Airborne. After disposing of Seaside in straight sets 25-13, 25-14, they ran into Thompson Rivers, another tough interior team, losing yet another three set match 25-23, 24-26, 9-15.
The 16U Kodiaks Red are coached by Dave Dalcanale, Grant Emmond and Morgan Samuelson. The team consists of Maddisen Brown, Hannah Emmond, Jynessa Kaulback, Haileigh Kearns, Ayden Martin, Kendra Potskin, Ashley Rempel, Kendal Samuelson, Mackenzie Van Spengen and Nicloe Watt.
18U Kodiaks Black Capture Div 2 Bronze
The 18U Girls Kodiaks Black shook off a tough Saturday in Richmond and came back firing on all cylinders on day two. An 0-3 record in Power Pool E was good enough for a bye to the quarterfinals where they faced Ace of Hearts from the Fraser Valley. A 21-25, 25-23, 15-10 win put the Kodiaks into the top four. In the semifinals, the girls once again took on Synergy, who they had previously lost to in straight sets in pool play. This time the match went the distance with Synergy coming out on top 25-16, 20-25, 15-7. In the bronze medal match, the girls found themselves in another three set marathon, this time against home town Air Attack. They won the first set 25-22, lost the second set 12-25 and then rebounded with a 17-15 third set win, giving PGYVC it's first medal of 2015.
The 18U Kodiaks Black are coached by Hans Minck and Tara Rochon. The team consists of Amanda Bazinet, Brittany Briere, Katelyn Bryant, Catherine Chrobot, Anna Gervais, Madison Minck, Rebecca Petersen, Sydney Reimer, Brittany Rochon and Taylor Viik.